Let's visit onsen (hot springs)! What qualities do today's hot springs offer? Hot spring information you should know!
Onsen are mystical hot springs that flow out from the earth. In addition to the splendor of the hot water itself, the culture, history, cuisine, and local specialties of the onsen areas all add up to make Hokkaido's hot springs an attractive destination.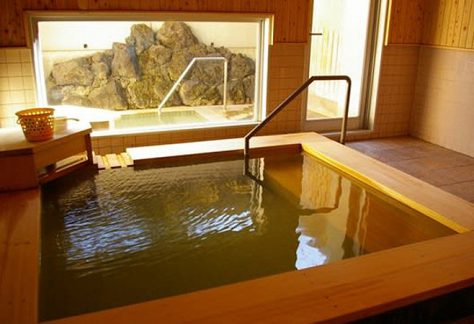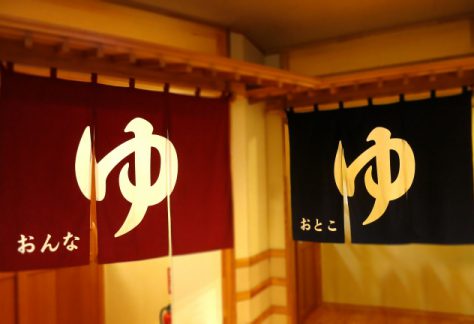 One-day hot springs (drop-in baths)
Hot springs that can be enjoyed without having to lodge overnight. You can bathe at a super sento (public bathhouses), health facilities, public bathhouses, and sento. Many places offer lounges and restaurants are available at the larger facilities. Recently, hot spring inns have been offering a wide range of day trip plans, including private lounges, private baths, and meals.
* Sento are public bathhouses that use artificially heated water or well water (as opposed to naturally heated via geothermal).
"Gensen water" refers to particularly precious hot springs that flow directly from its source to the baths without being diluted by additional water.
*However, if the source is a high temperature hot spring (over 42 degrees Celsius), a low temperature hot spring (25-34 degrees Celsius), or a cold mineral spring (less than 25 degrees Celsius), the temperature may be adjusted to a more appropriate bathing temperature. It is no longer considered a gensen water bath if the temperature has been adjusted by dilution.
Each hot spring has a "hot spring composition table" which certificaties that the water has been studied by the Hokkaido Institute of Public Health.
Major elemental symbols often seen in spring quality labels
Na Sodium
Ca Calcium
Mg   Magnesium
Fe Iron
S Sulfur
Cl Chlorine
SO4 Sulfate
HCO3 Hydrogen carbonate
CO2 Carbon dioxide
Al Aluminum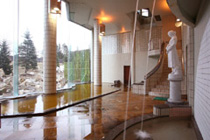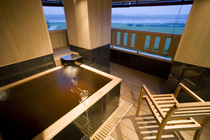 * There is a sign that indicates whether the spring water is drinkable or undrinkable. Water indicated as undrinkable should never be ingested.
Composition / Simple hot spring, alkaline simple hot spring
Benefits / Bath for general ailments, bath for neuralgia
A hot spring in which the various components exist in equal proportions and no one particular characteristic is overly expressed.
* Alkaline simple hot spring: pH 8.5 or higher (alkaline) springs; has a slippery feeling compared to other simple hot springs.
Hot springs area / Sounkyo Onsen
Composition / Sodium chloride spring, sodium magnesium chloride spring, sodium calcium chloride spring
Benefits / Bath for warmth, bath for gastrointestinal health, bath for uterine health
The salt content adheres to the skin and prevents the evaporation of sweat giving the water a high heat retention effect.
Hot springs area / Jozankei Onsen, Tokachigawa Onsen, Noboribetsu Onsen, Asarigawa Onsen
Composition / Aluminum-sulfate spring
Benefits / Bath for the eyes
         Chronic skin disease, mucous membrane inflammation, hives, athlete's foot,                    hyperhidrosis
Hot springs area / Noboribetsu Onsen
Composition / Sulfate spring, magnesium-sulfate spring, sodium-sulfate spring, calcium-sulfate spring
Benefits / Bath for strokes, bath for ailments, bath for wounds
          Hypertension, arteriosclerosis, constipation, diabetes, gout, biliary disease
Hot springs area / Toyako Onsen, Noboribetsu Onsen
Composition / Sulfur spring, sulfur spring (hydrogen sulfide type)
Benefits / Bath for detoxification
         Chronic bronchitis, arteriosclerosis, chronic skin disease
Hot springs area / Sounkyo Onsen, Noboribetsu Onsen
Hydrogen carbonate hot spring
Composition / Calcium (and magnesium) – hydrogen carbonate spring, sodium – hydrogen carbonate spring
Benefits / Bath for the cold, bath for beauty
Water has a slippery feeling. Neuralgia, chronic women's diseases, rheumatism, burns, cuts, cold sensitivity, menstrual irregularities, gallstones, cholecystitis, diabetes, gout, uric acid stones
Hot springs area / Noboribetsu Onsen, Toyako Onsen
Iron-containing hot spring
Composition / Iron spring, iron (II)-hydrogen carbonate spring, iron (II)-sulfate spring
Benefits / Bath for anemia
         Rheumatism, menopausal problems, uterine problems, chronic eczema
Hot springs area / Noboribetsu Onsen
Composition / Simple acidic spring
Efficacy / Bath for sterilization
         Skin diseases and venereal diseases
Hot springs area / Noboribetsu Onsen
Rinse your body in the washing area before entering the baths.
Do not bathe in your underwear or bathing suit.
Do not put towels into the baths.
Do not jump into the baths like a swimming pool.
Do not swim in the baths (including children)
Do not eat or drink in the baths.
Reserving space in the bathing areas is prohibited.
After using the washing area, return it to its original state for the next person.
Bathing while intoxicated is prohibited.
Taking one long bath can be harmful, so divide your bath into several separate sessions.
Be careful of the slippery floor in the bathing areas.
Do not put your face in the water or dive under.
Drink plenty of water before and after taking a bath.
Leave your valuables at the front desk. Use the safes.
Be careful of theft in the changing rooms (at your own risk).
Follow all other precautions for each onsen.
Check

the contraindications*

in advance.
* General contraindications to hot springs (bathing)
Contraindications are illnesses or conditions that pose a risk of harm or exacerbation after even just a single bath or drink of the hot springs. Care should be taken not to bathe if any of the following items apply:
Active disease (especially with fever), active tuberculosis, advanced malignant tumor or severe anemia, severe heart or lung disease that makes it difficult to breathe after slight movement, severe kidney disease with swelling, gastrointestinal bleeding, visible bleeding, acute exacerbation of chronic disease
Basics
Baths labeled "daiyokujyo (large baths)" are communal baths (men and women separate/for everyone). Get in quietly without disturbing others. Keep it clean.
Wash your body before getting into the bathtub.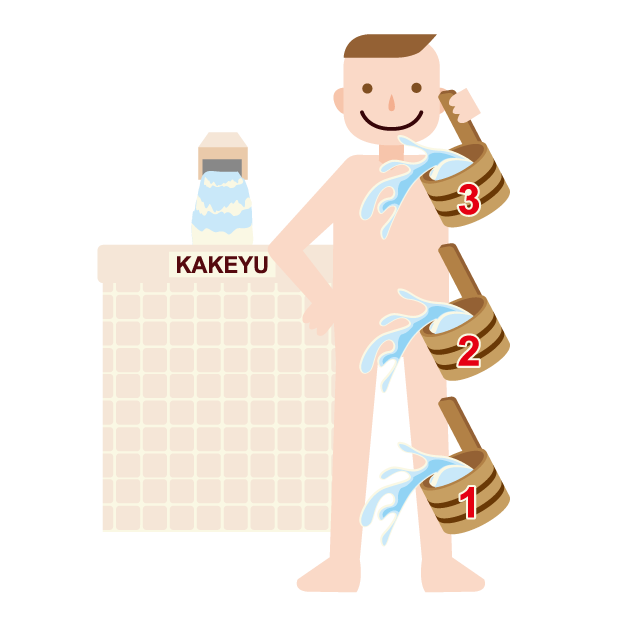 Pour the water over yourself. Start with the feet and work your way up to the shoulders.
Enter the bath slowly. Limit yourself to about 15 minutes in the bath.
Rest your body and take some time before going in again.