Only here in the world, the entire surface of the sea is covered in February with ice blocks that come in from the north. The area is also rich in forests and other natural features.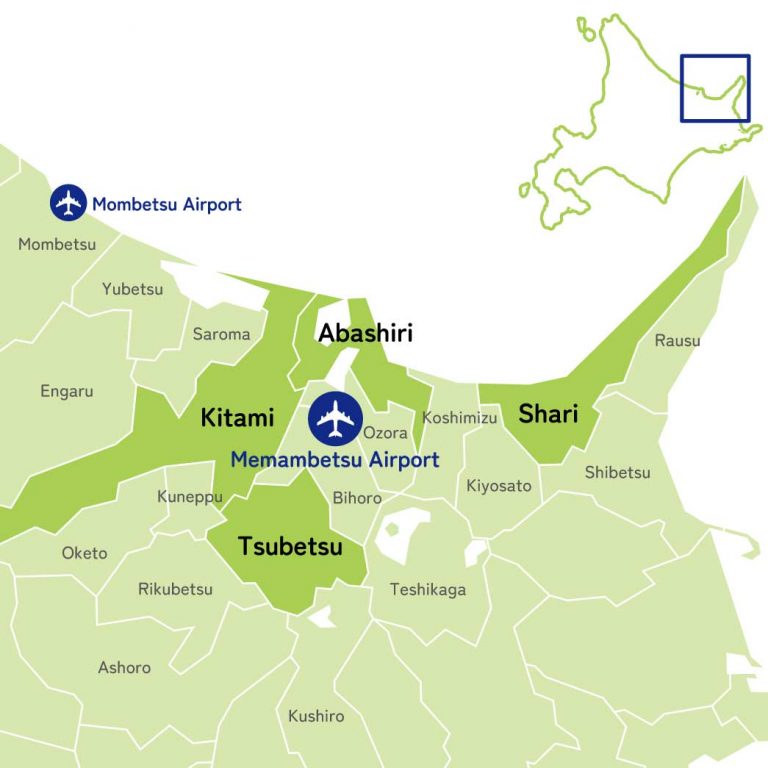 Abashiri is the only place in Asia where you can see drift ice! Although Abashiri has such a cold image, it is filled with colorful flowers from spring to fall, abundant seafood from the Sea of Okhotsk and five lakes, and mountain delicacies.
Area Attractions
Drift Ice Museum / Museum Abashiri Prison / Drift Ice Sightseeing Icebreaker Ship 'Aurora' / Lake Tobetsu / Cape Notori / Coral Grass / Phlox Park / Kitahama Station / Wakasagi Fishing / Dolphins and Whales
Local Gourmet
Channel rockfish / Yamato Shijimi / Shirauo / Wakasagi / blue king crab / Lake Mokoto Oysters / Okhotsk Abashiri Wagyu Beef / Abashiri Zangi Don / Abashiri Champon
Kitami, the central city of Okhotsk, is a tourist center for drift ice tours, Shiretoko, Lake Akan and Mt. The city is popular for its Hakka and barbecued meat.
Area Attractions
North Fox Farm / Curling / Lake Saroma / Kitami Mint Memorial Museum / The Pierson Memorial House / Kita No Daichi No Suizokan (Northern Aquarium) / Wakka Wild Flower Garden / Drift Ice / Hakka Products
Special Product
Okhotsk beer / grilled meat / Okhotsk Kitami salt fried noodles / processed scallop products / sweets
Tsubetsu Town is a town rich in nature with clean air created by forests. It is known for Tsubetsu Sea of Clouds, which has the highest appearance rate, and for being the only town in Hokkaido where forest therapy is practiced.
Area Attractions
Tsubetsu Pass / Lake Chimikeppu / Rokumei Waterfall / Nonno Forest / Wood Crafts Museum Kinos / Forest Study Exhibition Hall / Shigechan Land / Campsites / Wooden Products / Wooden Toys / Chairs
Special Product
Tsubetsu Ramen / Tsubetsu Wagyu Beef / Kumayaki / Cream Croquettes
Shiretoko has four beautiful seasons: spring with lingering snow, refreshing summer, tasteful autumn, and drift ice winter, so you can experience a different Shiretoko every time you visit.
Area Attractions
World Heritage Site / Shiretoko Goko Lakes / Kamuiwakka Hot Falls / Shiretoko Pass / Shiretoko Museum / sightseeing boats / drift ice diving / Utoro Onsen / Roadside Stations / Shari Neputa / Shiretoko Odan Road / Lake Rausu
Gourmet & Local Products
Fresh Sea Urchin Bowl / Salmon Salmon Roe Bowl / Shiretoko Black Beef / Hokke / Channel rockfish / Seafood / Venison