The Asahikawa Airport area offers flowers, nature, gourmet food, events, and hands-on sightseeing.
Blessed with nature and scenery, the area is dotted with lavender fields, the Tokachi-dake Mountain Range, and beautiful countryside, and offers gourmet food, events, and hands-on sightseeing throughout the four seasons.
There are 14 hot springs in the surrounding area, including Sounkyo Onsen, Tenninkyo Onsen, and Lake Shikaribetsu Onsen, and the area is also famous as a skiing area in winter.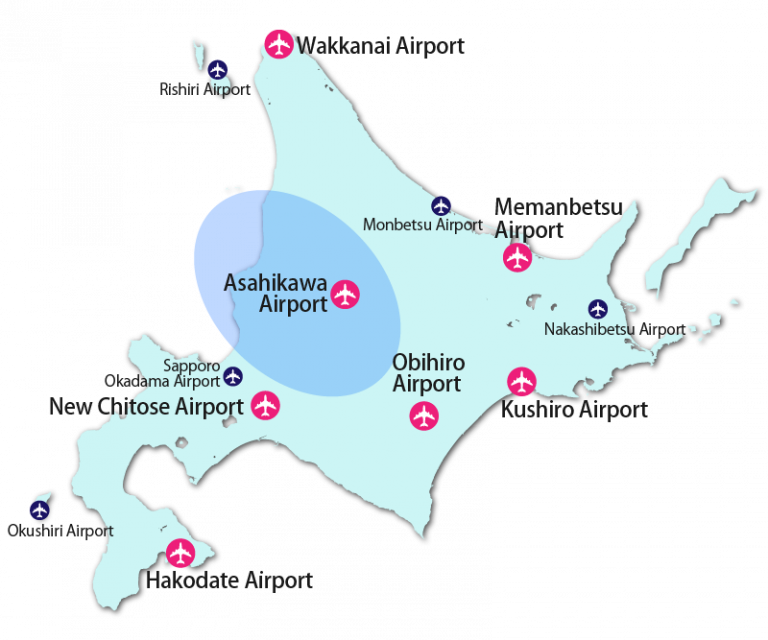 Asahikawa is considered a top-class town of dining even by Japanese standards where great ingredients are gathered such as cereals and culinary plants grown with high quality water, marine produce from the surrounding Pacific Ocean, Sea of Japan, and Okhotsk Sea, and meat such as beef, pork, and lamb from the outskirts. Please come to eat a variety of dishes in Asahikawa!
Keep in mind that it is a vast area, so make sure to make a detailed travel plan when you decide on a destination. That is best strategy when it comes to Asahikawa!
We provide information on transportation for Asahikawa Airport.
* Currently, the number of buses in operation has decreased due to the new coronavirus. The timetable may change, so please check with each operating company for details.
For a Rent-a-car from Asahikawa Airport, please come to the Car Rentals.
❶For group buses only
❷For group buses only
❸To Shunko, Shunkodai, Omachi, Takasu, Etanbetsu, Nagayama
❹To Shunko / Suehiro
❺To Higashikawa / Higashikagura
❻To Asahiyama Zoo
❼Intercity bus bound for Sapporo
❽To Nayoro / Kamikawa, Intercity Bus
❾Asahikawa Airport, Asahidake, Furano, Biei, Taisetsu Liner
❿To Ashibetsu / Fukagawa
↑Tap the station, bus terminal, or bus stop icon to display information and bus schedules. You can also select a genre.